Interface
Main window
Totally new hi-end main window design. More attention to details and consistency. Works much faster and smoother.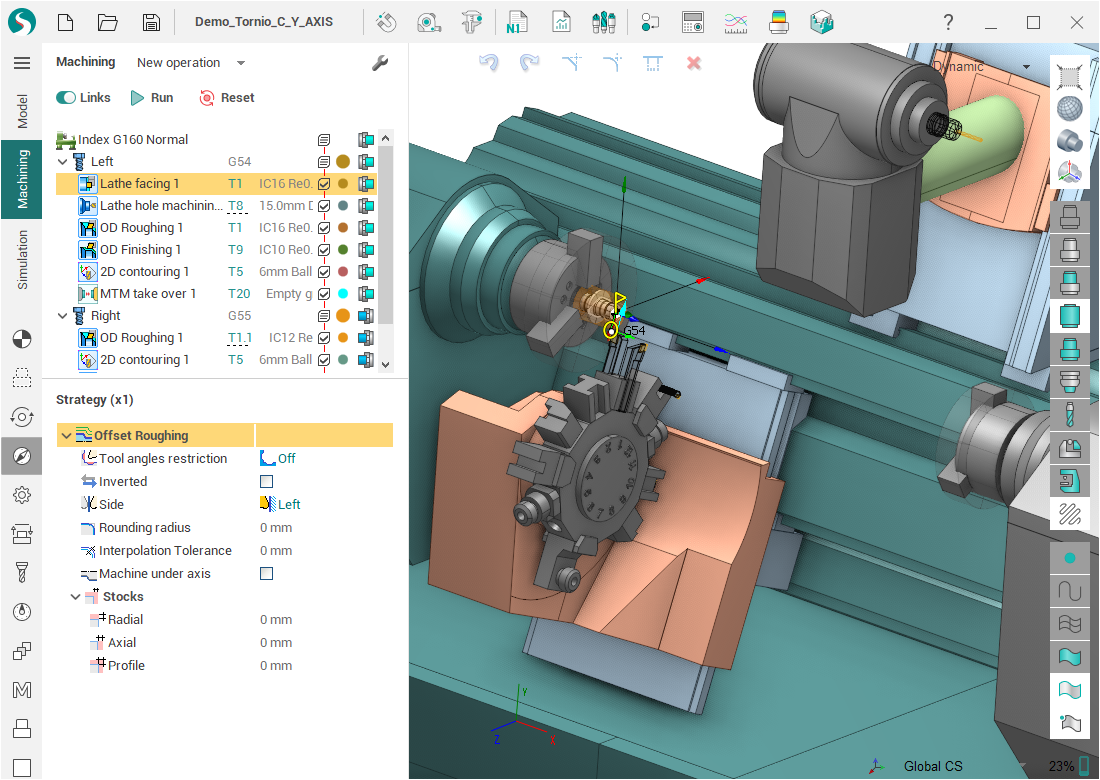 Smart hints
Completely redesigned smart hints. These hints clearly show where and how parameters of the operation are used and also they are interactive and allow you to go to the parameters directly from themself.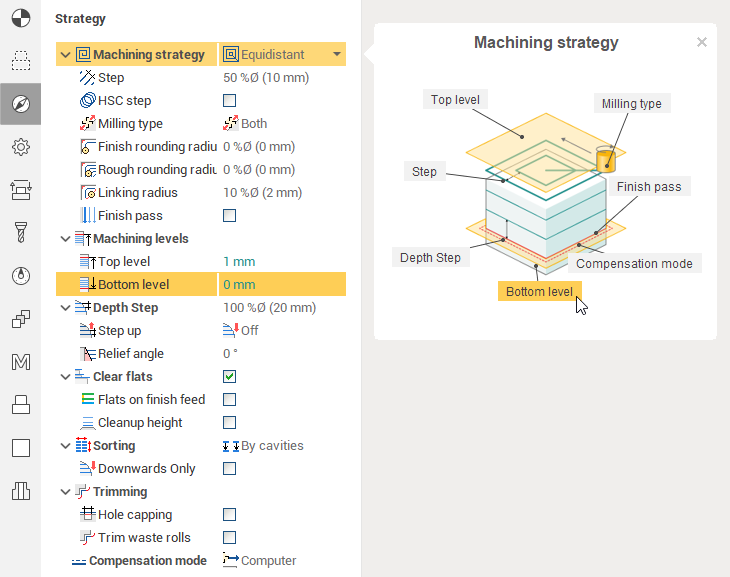 Approach/Return parameters moved
Operation's approach, return and tool change position parameters are now located on the same inspector tab with the "Leads" parameters. Now you can see the actual approach/return command used by the operation (even if it references the previous operation, for example), which makes it easier to tweak these properties. If the approach/return checkbox is disabled, the corresponding toolpath section is calculated automatically to avoid collisions.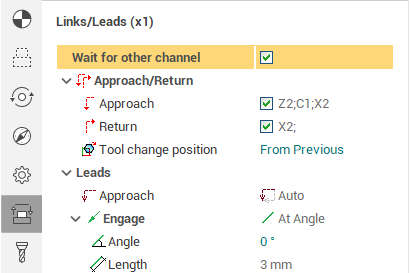 Solid simulation
New algorithms are bringing back Solid simulation in SprutCAM X.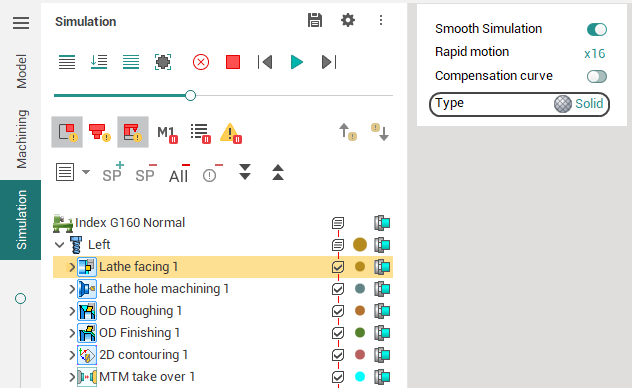 More precision, especially for large parts with small elements.
Solid simulation can be used for turn-milling projects for better simulation results.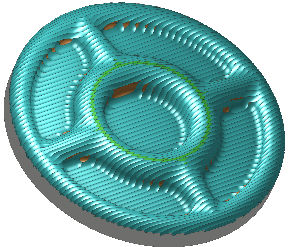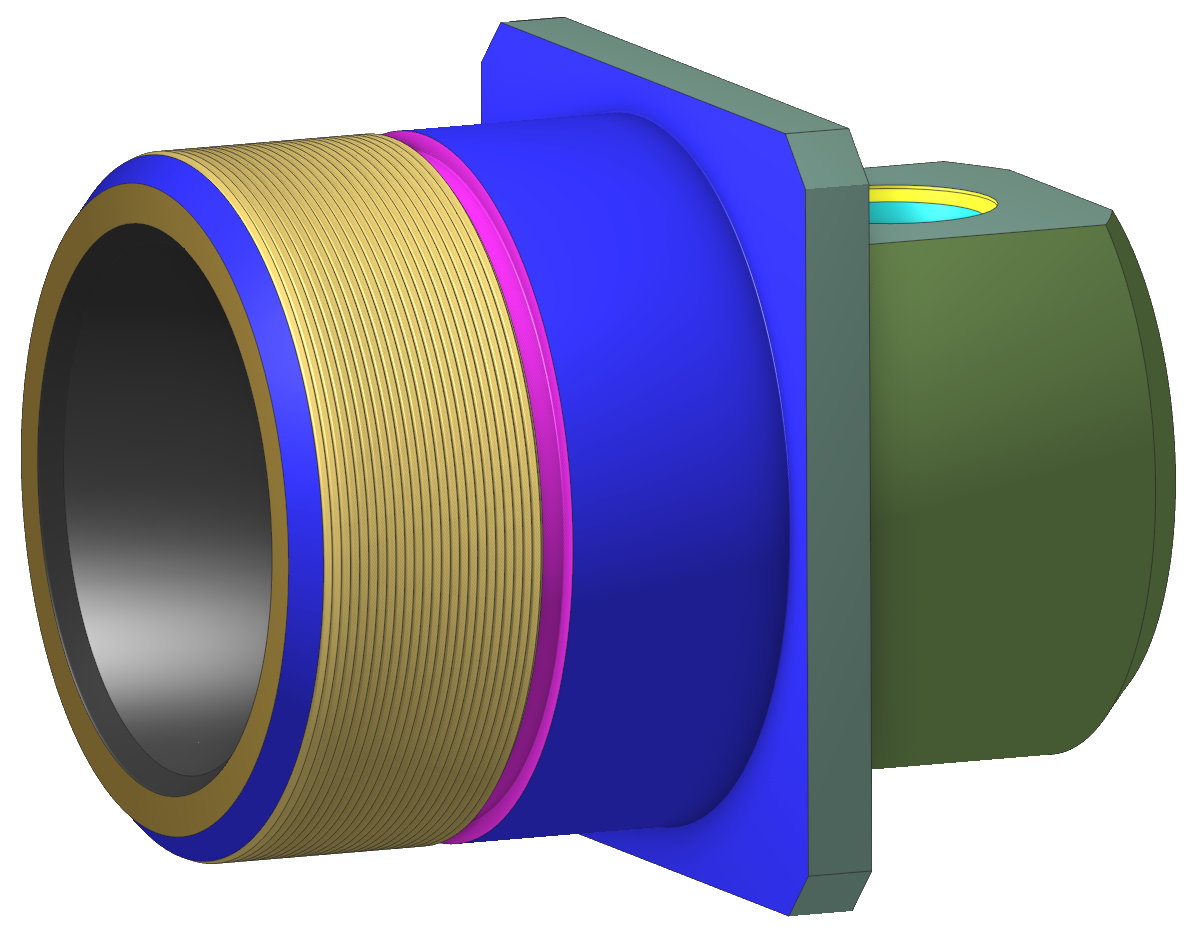 Other improvements:
- the algorithm of making workpiece from a user geometric model for a simulation become more robust
- simulation of milling for 5-axis toolpaths was improved (temporarily works with limitations)
Multitask machines workflow improvement
Correct Z axis direction in both spindles

WCS moving with Z axis

Approach and retract rules are created in machine schema separately for each pair of workpiece connector and tool connector. And applied automatically.

Part manipulation operations: pick-and-place, MTM takeover, bar feeding and sub-spindle working.
Submachine definition in the machine schemas
Submachine is a list of parameters for the pair: <tool holder, workpiece holder>. This is especially topical for complex machines with multiple spindles, multiple places for the workpiece, etc.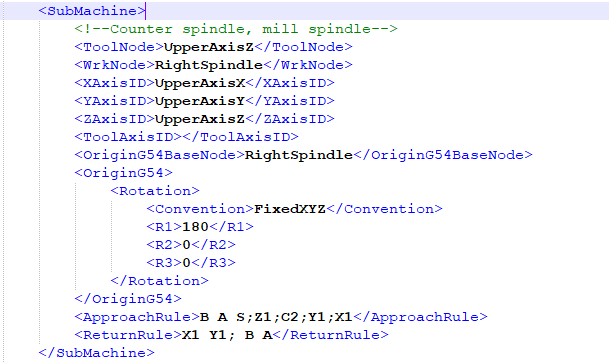 ToolNode is a common parent node for all tool holders that are actual for the sub-machine

WrkNode is a common parent node for all workpiece holders that are actual for the sub-machine

XAxisID, YAxisID, ZAxisID - the axes that are responsible for the motion along X,Y,Z.

ToolAxisID - the ID of the turret axis if it exists.

OriginG54BaseNode - the ID of the axis where the workpiece coordinate system (WCS) is attached

OriginG54 - additional transformation for the WCS. For example it allows to overturn the Z-axis in the counter spindle

ApproachRule, ReturnRule - the default rules that will be used to build the approaches or returns.

If no one submachine is declared in the schema then any tool holder can be used with any workpiece holder. It's done for the compatibility with the schemas developed for the previous versions of SprutCAM X. For example for the MTM turn-milling machine with two turrets and two spindles it must be defined the next submachines:
<Upper turret, main spindle>

<Upper turret, counter spindle> if Upper turret is able to work with the counter spindle

<Lower turret, main spindle> if lower turret is able to work with the main spindle

<Lower turret, counter spindle>

<Main spindle, counter spindle> for the takeover from the main spindle to the counter spindle

<Counter spindle, main spindle> for the takeover from the counter spindle to the main spindle
SprutCAM X does not allow to choose the tool holder in the operation if it can not be used with the current workpiece holder (corresponding submachine is absent). The examples of the submachines declaration can be watched in the schemas "Index G160" and "Hanwha 32" that are included into the standard package.
Move Part operations
Added separate group for the operations which can move the part using robot or swiss-type/lathe machine. It comprises Pick and Place, MTM Takeover, Bar feeding and Sub spindle working operations.


New Bar feeding operation
Any machining on the swiss lathe starts from the bar feeding. So the bar feeding operation must be the first in the operation list for the swiss lathes. On Hanwha swiss lathes it generates G300.



New Sub spindle working operation makes possible:

to synchronize the main and counter spindles.

to take the part by the counter spindle for the further machining in both spindles

to move the part in the main(counter) spindle

New CL-data command for the spindles synchronization



New "Clamp" CL-data command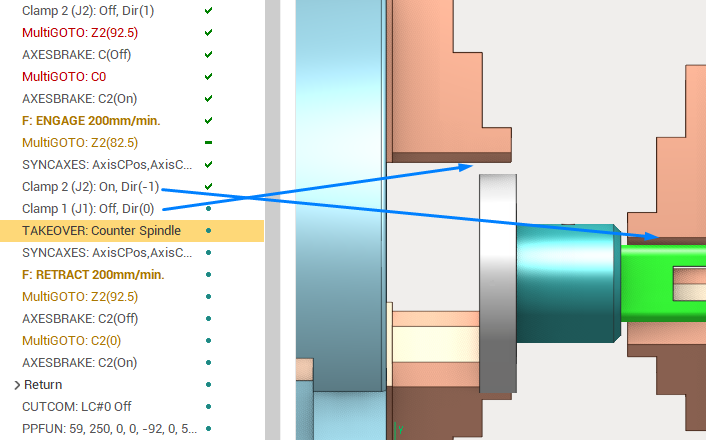 Clamp devices now can be associated with the workpiece holders used by move part operations.
The new group of parameters is located on the "Strategy" inspector tab of the "Move part" operations. When the part is moved from one workpiece holder to another using the Takeover: command, the clamps which hold the part will automatically release/grip the part. Clamp devices can be added manually using vice/clamp fixtures or defined in the machine schema. Each device has an ID, clamps with the same ID are moved simultaneously. The CL-data command consists of device ID, and boolean flag to switch on/off the clamp device.
See the Clamp devices control documentation for more info.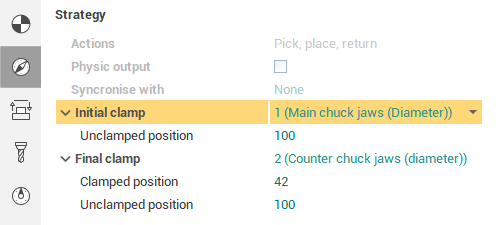 Limited support of Swiss-type lathes
Automatic conversion of the linear operations sequence into the cycled parallel program. Conversion includes the automatic operations reordering and the automatic sync points placement. Simulation in the multichannel mode is limited.

Template for the schemas of the swiss lathes.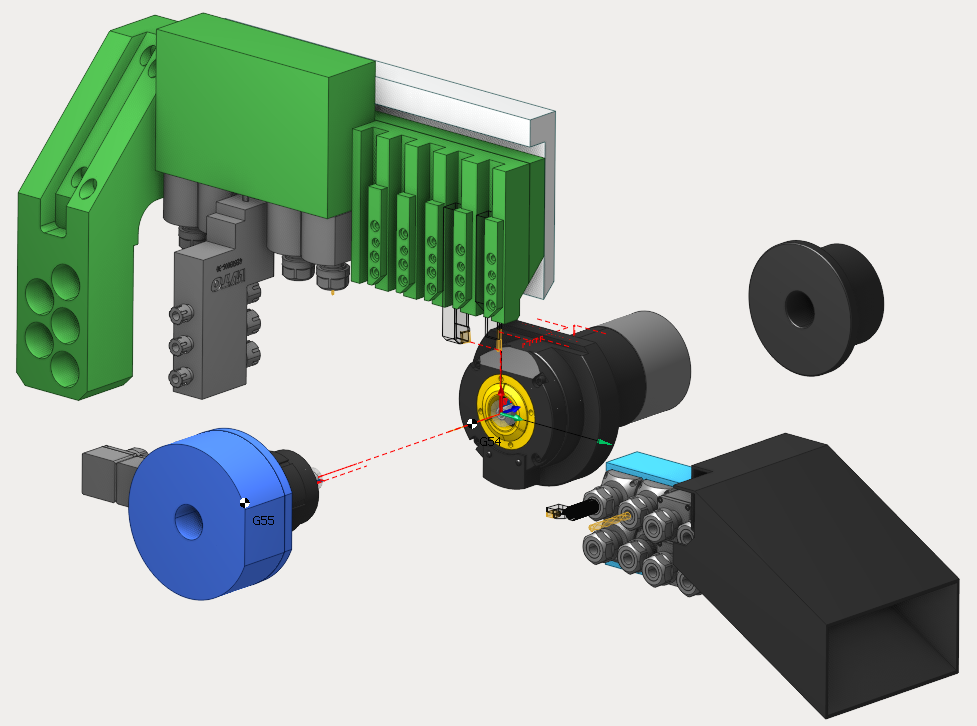 The most popular swiss lathes (Hanwha, NEXTTURN, Citizen Cincom) has the common structure. They have 2 channel, main and counter spindles, groups of tool to work with main or with counter spindle. This structure is described in the SwissTemplate.xml that must be ancestor for all user swiss lathes schemas.
Automatic reordering of the operations list for the machine schemas based on the swiss template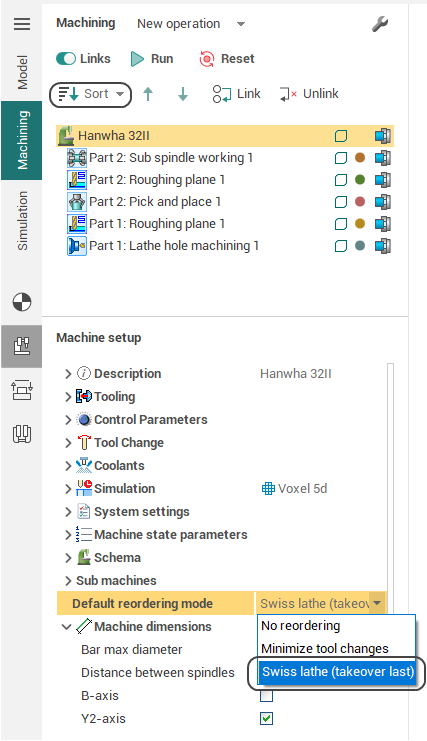 Automatic insertion of the channels sync points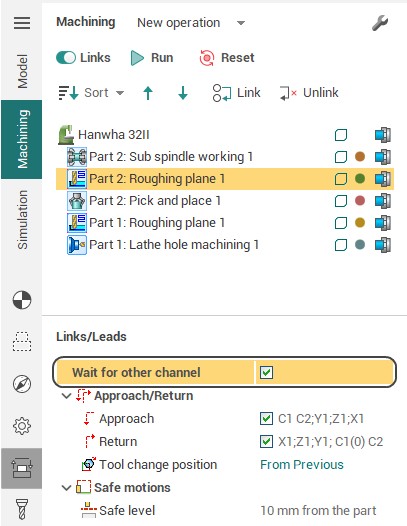 Improved MTM takeover operation can be synchronized with the part-off operation.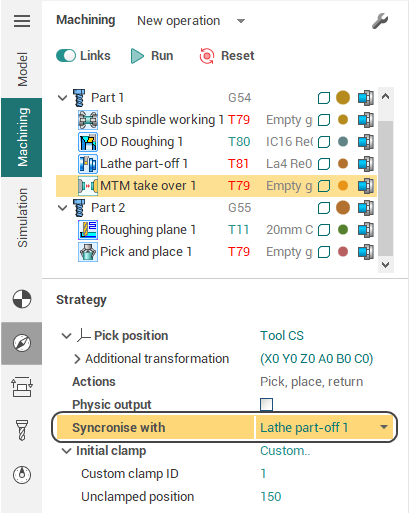 Example schema "Hanwha 32" and project "Hanwha.stc" are included into the standard package.

Simulation in the multichannel mode is NOT fully debugged (expected in the release)

Example postprocessor for the Hanwha swiss lathe will be included into the package later.
Support of U-axis turning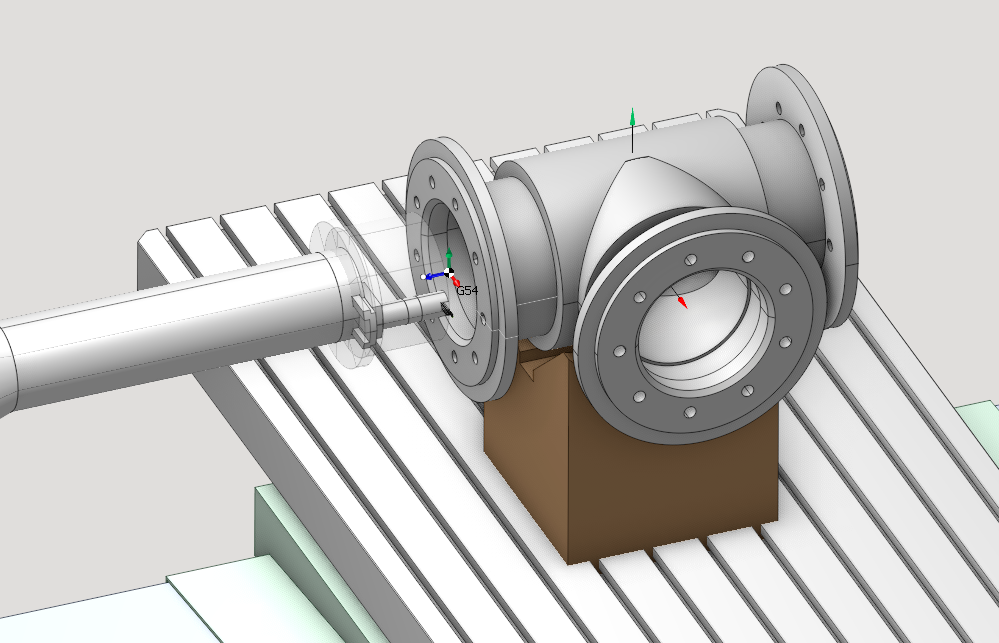 U-axis turning feature is designed to machine the large unbalanced parts. On these machine tools the workpiece is placed STATIONARY and the tool is rotated. U-axis is used to change the machining radius.
The example of project is included into the standard package (project name "U-axis turning.stc"). The turning axis always is going through the workpiece zero (G54-G59). Define the correct Origin (G54-G59) and B-axis position before create the lathe operation. SprutCAM calculates the generatrix, based on the defined axis, and draw the solid of revolution.
Generated CLData will contain the command to switch the interpolation axes X/U. This command must be analyzed in the postprocessor. Tool tip point also depends on this mode.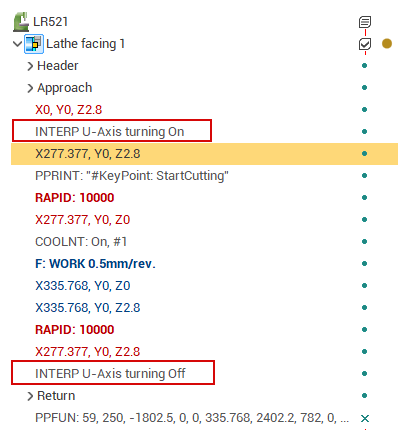 Probing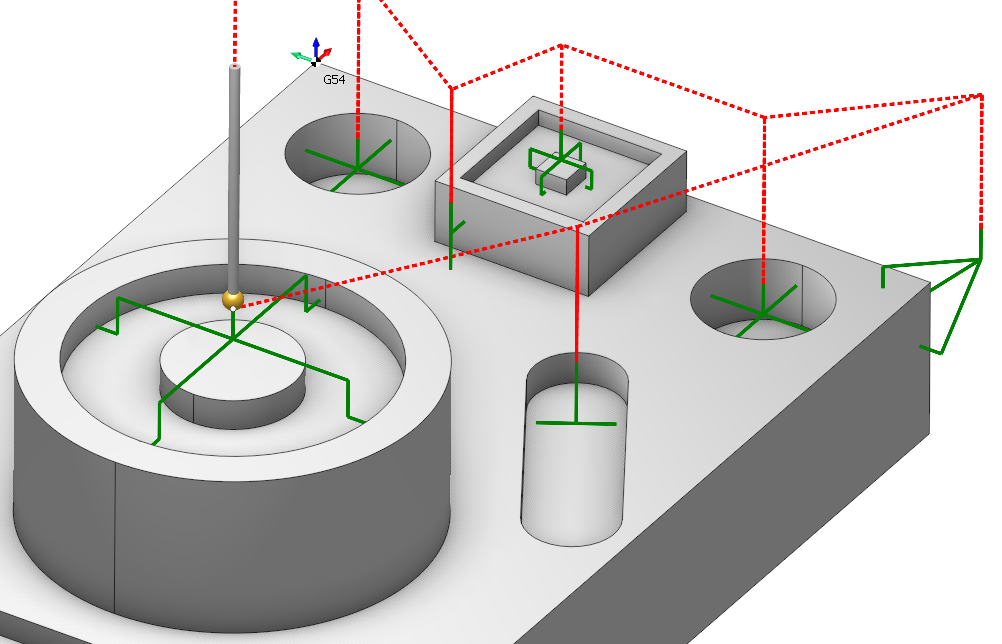 Added a new group of operations - Probing. Measuring of measure parts and tools using special measuring equipment and canned cycles.
Now you can use the following cycles:
- single surface probing,
- hole/boss probing (with and without protection zone),
- groove/web probing (with and without protection zone),
- internal/external probing (with and without protection zone),
- internal/external corner probing (double or triple walls).
New group of Probing tools added: one tool for the axial case (tooling point at the axis) another for the turn case (tooling points can be at side).



Due to the fact that there is no single standard for measuring cycles, a mechanism has been created that allows you to create your own set of cycles with a specific set of parameters needed for exact measuring equipment and CNC. So you can design your own cycle with only needed parameters and save it as template. Then you can place all created templates in a separate file with *.scpbl extension - a library of probing cycles - and transfer it to another computer along with the postprocessor and machine files. The " Design a new cycle " menu and properties customization button become available only when the option Show expert tools in the system settings window is enabled.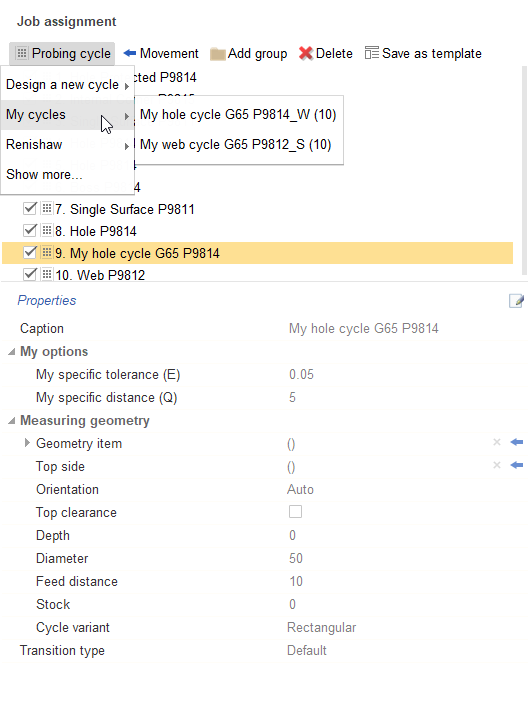 All custom cycle parameters are available in postprocessors using a syntax specially created for this case (you can see an example of probing cycles inside standard Fanuc (30i)_Mill_DN.dll postprocessor).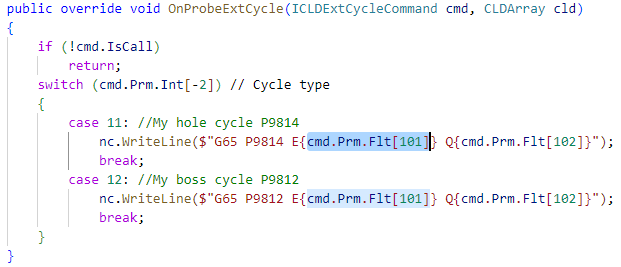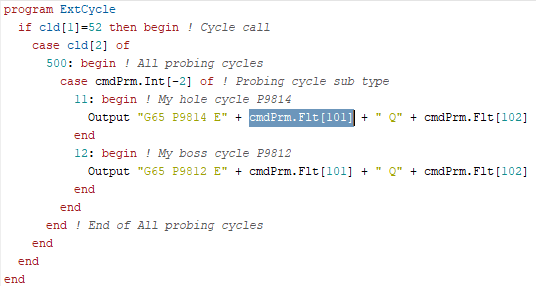 See Probing chapter for details.
Welding
New operation Welding 6D
Following w elding process types supported:
Seam welding

Stitch welding

Tack welding

Spot welding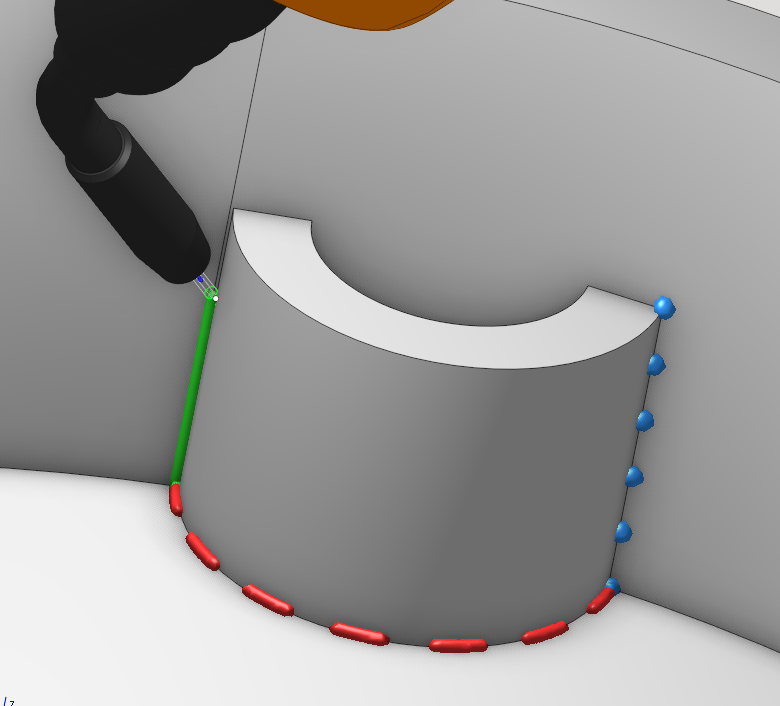 Spot welding works on the contour.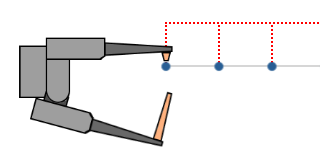 New operation Point Welding (Documentation)
Operation can be used to Tack weld and Spot weld. Points can be used to build a chain of trajectories. Points can be moved by dragging. it is also possible to rotate the tool axis in 6d by dragging the visual vector.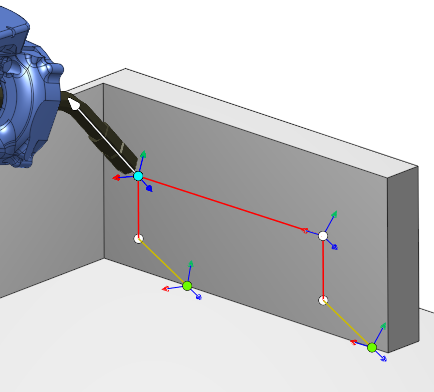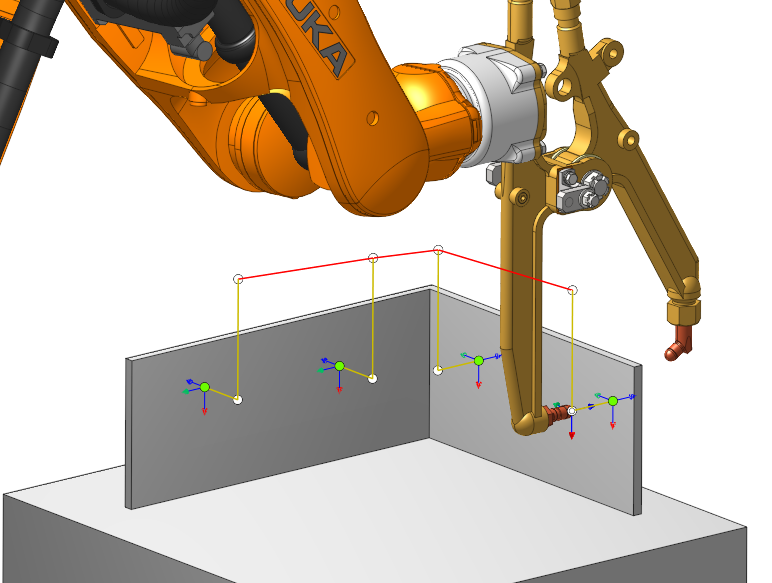 Learn more about welding features
Effector On/Off command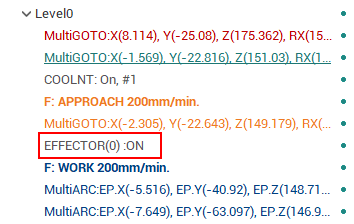 It is set if the simulation type is additive or paint according to the selected Effective Feeds. For additive operations and welding, the command is set to automatic.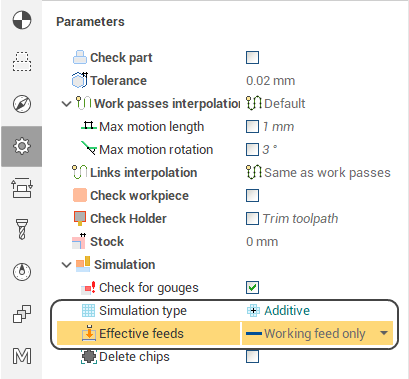 Multiply modes
New toolpath multiplication options. Useful mostly for welding, but can be used anywhere.
Multiply toolpath by axis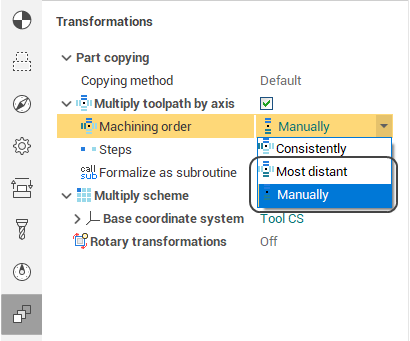 Multiply scheme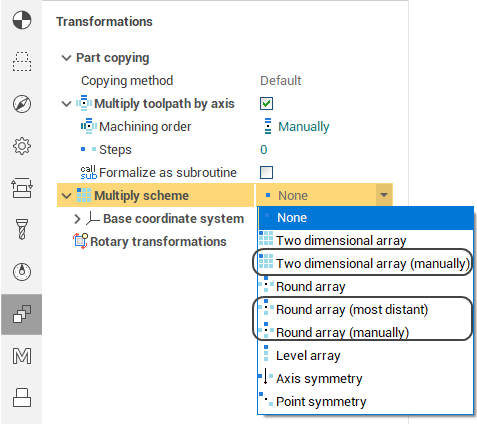 Most distant mode allows to change the order of optimally spaced elements. Manual mode allows to set your own order.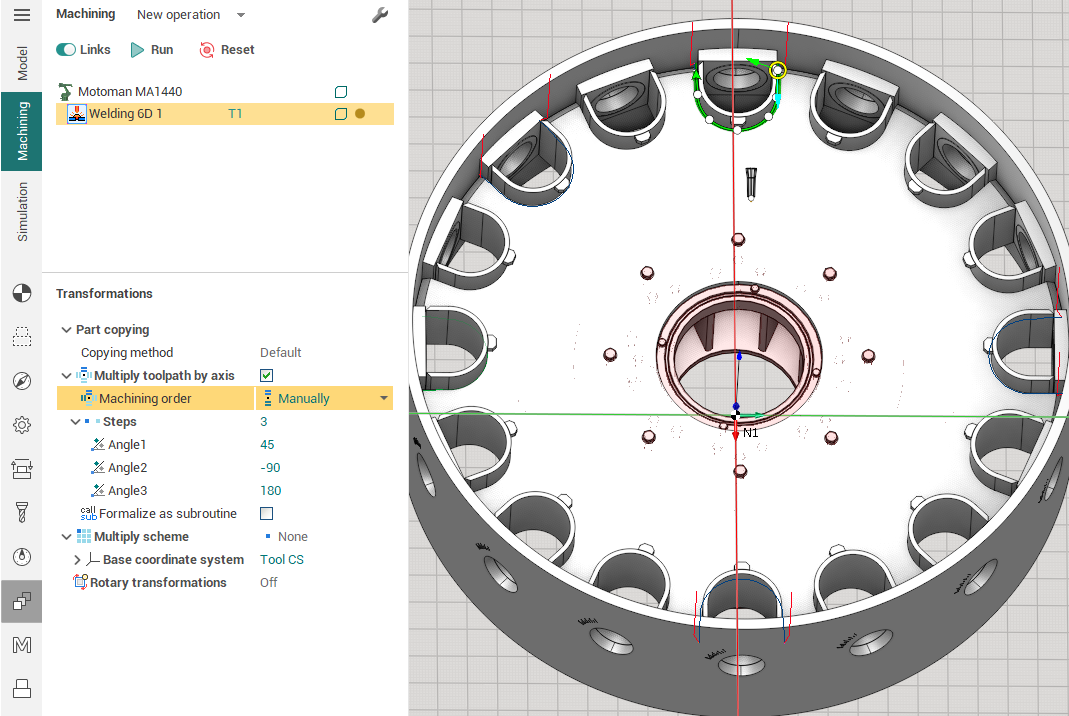 2D CAD updates
1. New interface to make sketching smooth and precise.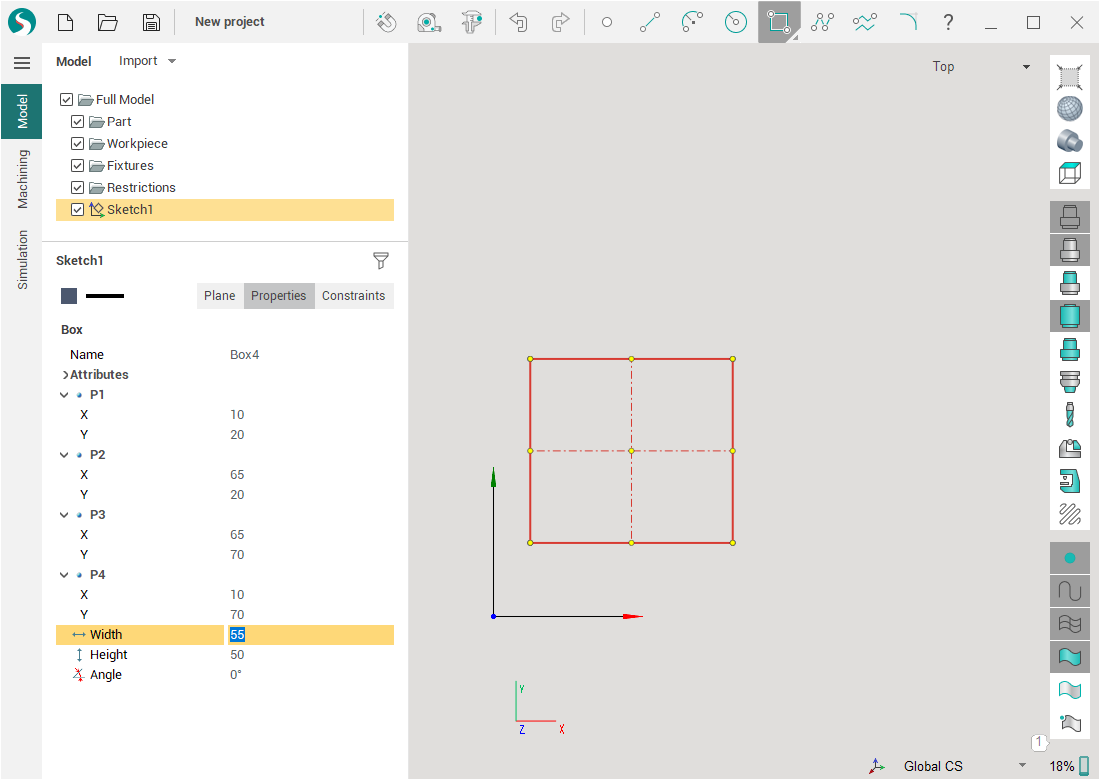 2. Geometry constraints linking objects into interconnected model.
Constraints are placed on object creation or can be used to link existing objects. When a group of objects is edited the geometry processor will modify model taking constraints and links into account.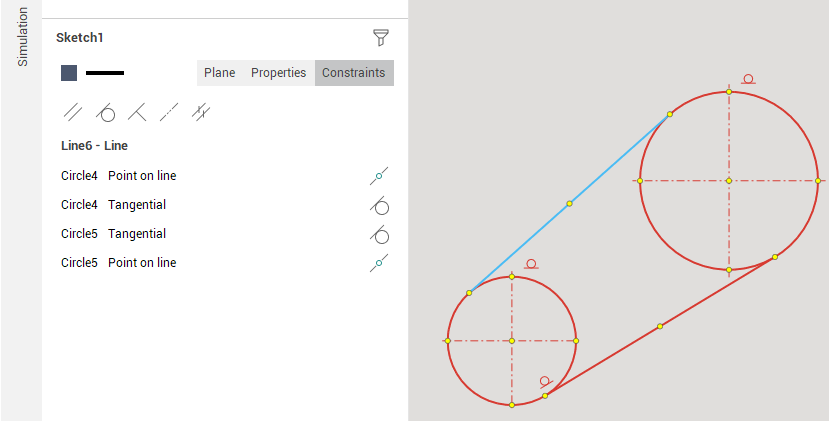 3. Detailed sketch documentation with examples.

3D CAD updates
Improved stability and performance.

New sketching tools: Arc by three points, Arc by center and two points, Circular Slot, Improved sketch fillet/chamfer tool.

Sketch areas. Better graphics, visibility controls, multi-select.

Extrude feature. Extrusion of several sketch areas at once is now possible. Snapping to other faces and points of the model is more intuitive and easy.

Revolve Feature. Revolution of several sketch areas at once is now possible. The axis of revolution can be easily defined with just drag and drop.

Construction planes. Better icons and captions. New ways of definition: offset plane, tangent plane, plane through an axis, mid plane.

Linear and circular patterns. Better performance. Much easier to define the pattern axes with a simple drag and drop action.

Interaction with the rest of SprutCAM X. It is possible to snap to the points and edges of the existing geometry while sketching or dragging the faces. Added the visibility controls toolbar and separate visual parameters for the SprutCAM X objects (3d model, part, machine, etc.). Added possibility to import curves, edges and faces of the 3D Model into the CAD sketch.

The Design can be created in any local coordinate system or on top of any 3D Model entity.

The Design can be transformed (moved, rotated, etc) with the Transform command.
Painting
Spray tools
Flat fan spray guns simulation now supported. Few new tool types of spray group was added:
full cone spray gun,

hollow cone spray gun,

elliptic flat fan spray gun,

elliptic linear fan spray gun and

rectangular flat fan spray gun.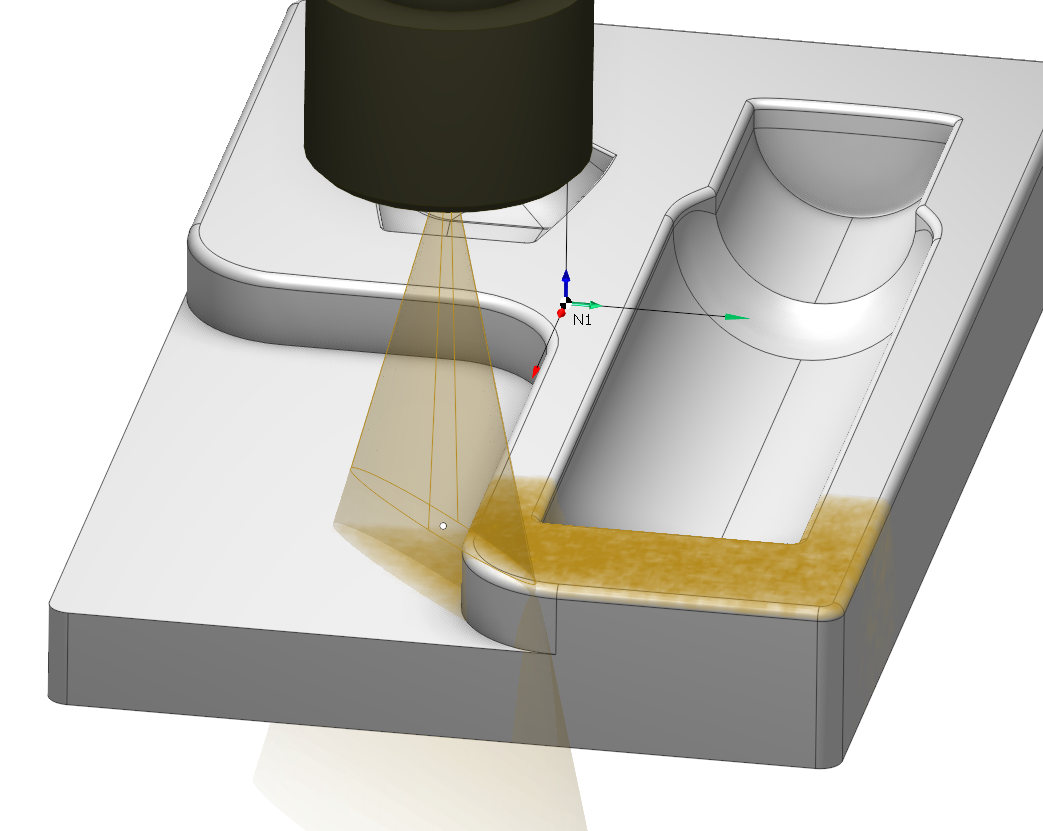 Toolpath options
Especially for spraying purposes, a new option has been added to the Contour 6D operation - To inverse odd curves . It allows you to automatically invert the direction of odd passes without changing the tool orientation angle relative to the path tangent.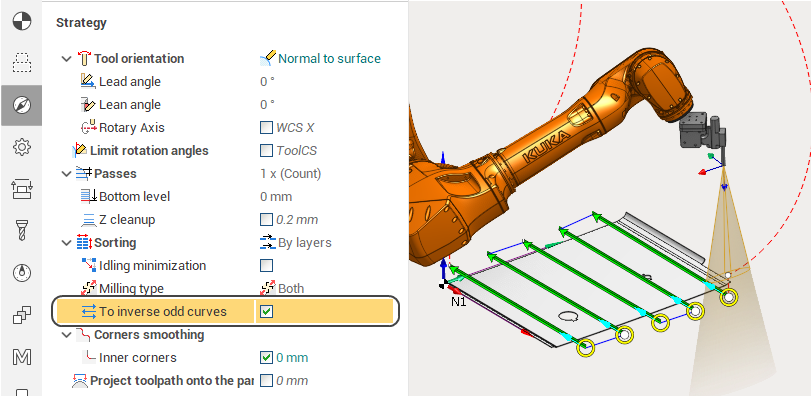 Also a new option has been added to the Contour 6D operation - Optimize Tool vX.
It allows you to automatically invert the direction of the tool's X vector in the same direction for all passes to minimize rotation.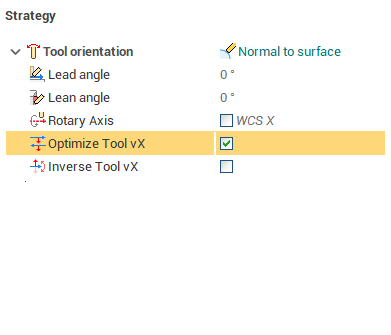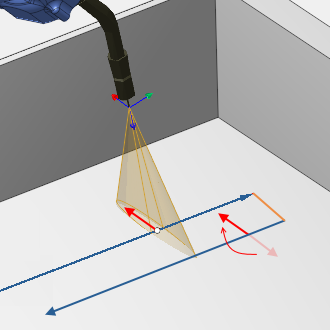 See Spray painting chapter for details.
Other improvements
5D by meshes - local zone milling
In the 5D by meshes operation for the Scallop strategy, the ability to select a milling zone has been added. Simply add a curve to a Job assignment using the Job zone 5d button. Adjust the direction of the curve projection in each point with interactive vectors editing.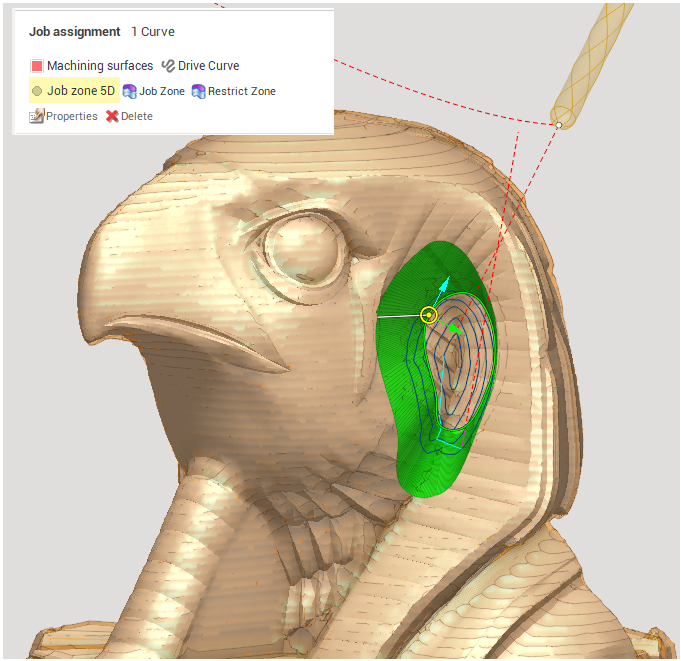 5D contouring(6D) - offset along tool
For situations where it is possible to offset the tool away from the model during welding in the operation 5D Contouring(6D) "Offset along tool" strategy was added that does not allow the holder to be collided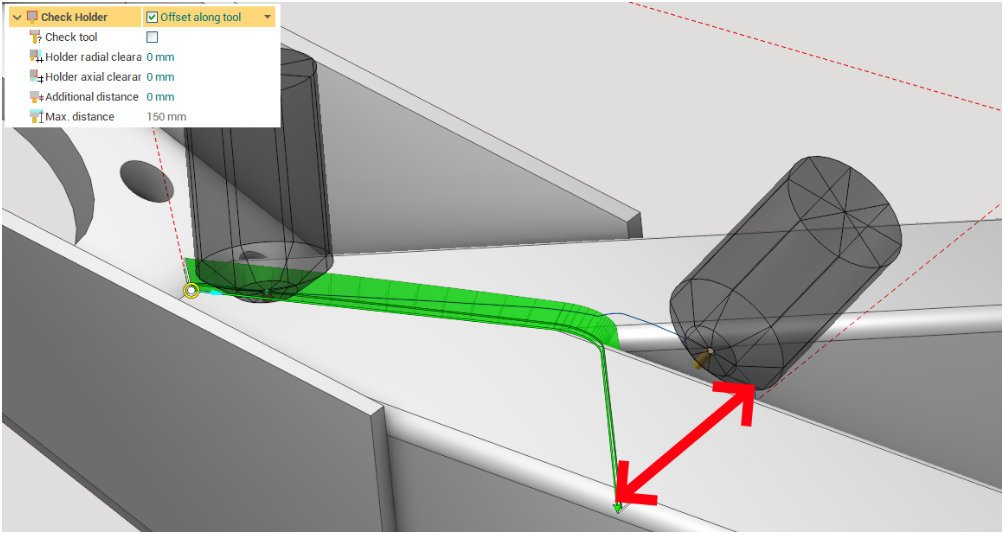 Wire EDM - tilted wire threading support added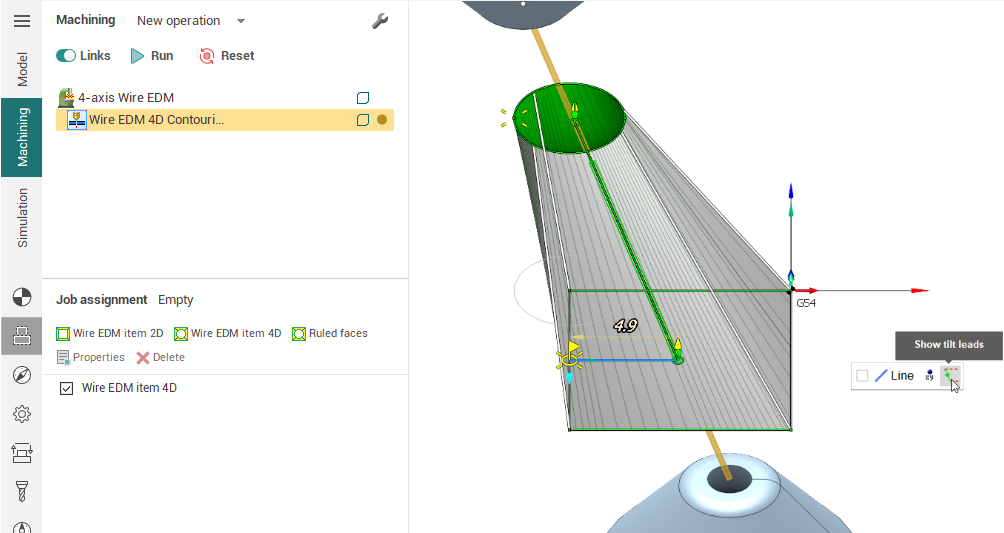 Now you can thread the wire at tilted holes. To enable it just select lead in on the screen and click to the "Show tilt leads" button on the action bar. An additional point will appear at the top level which you can interactively move to the desired location, regardless of the bottom point.
Improvements in simulation of multipart projects
Now it is possible to speed up simulation of multipart projects with the new options.
The first option optimizes manipulations in graphics window such as panning, rotating, scaling, and others, by displaying only the current part.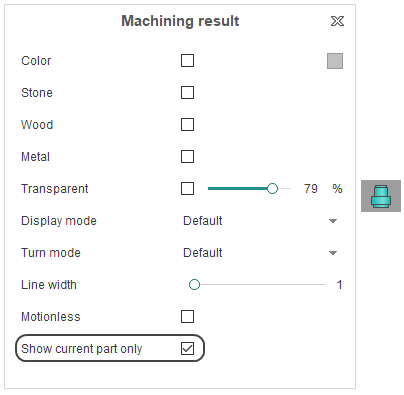 The second option is useful in projects with many copies of parts. It allows to use less RAM for simulation, by using one model of a part for all its copies at once.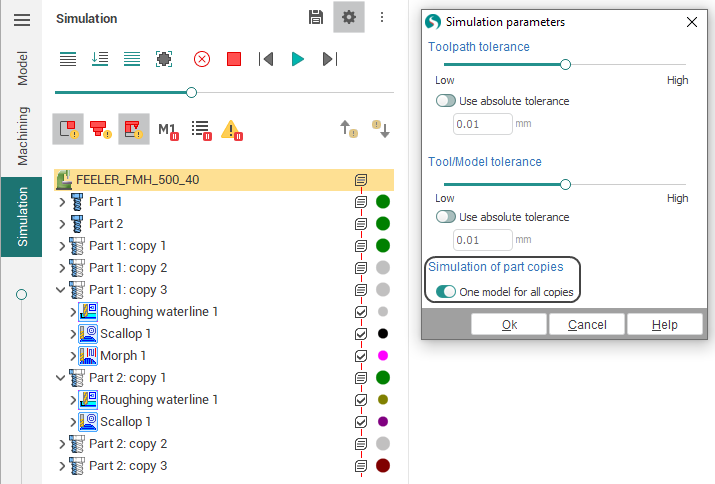 Rollback updates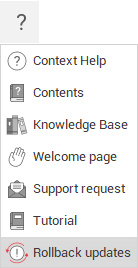 It is always possible to rollback SprutCAM X update and restore previous version, if you don't like new features.
What's new in MachineMaker
Online robots and other mechanisms library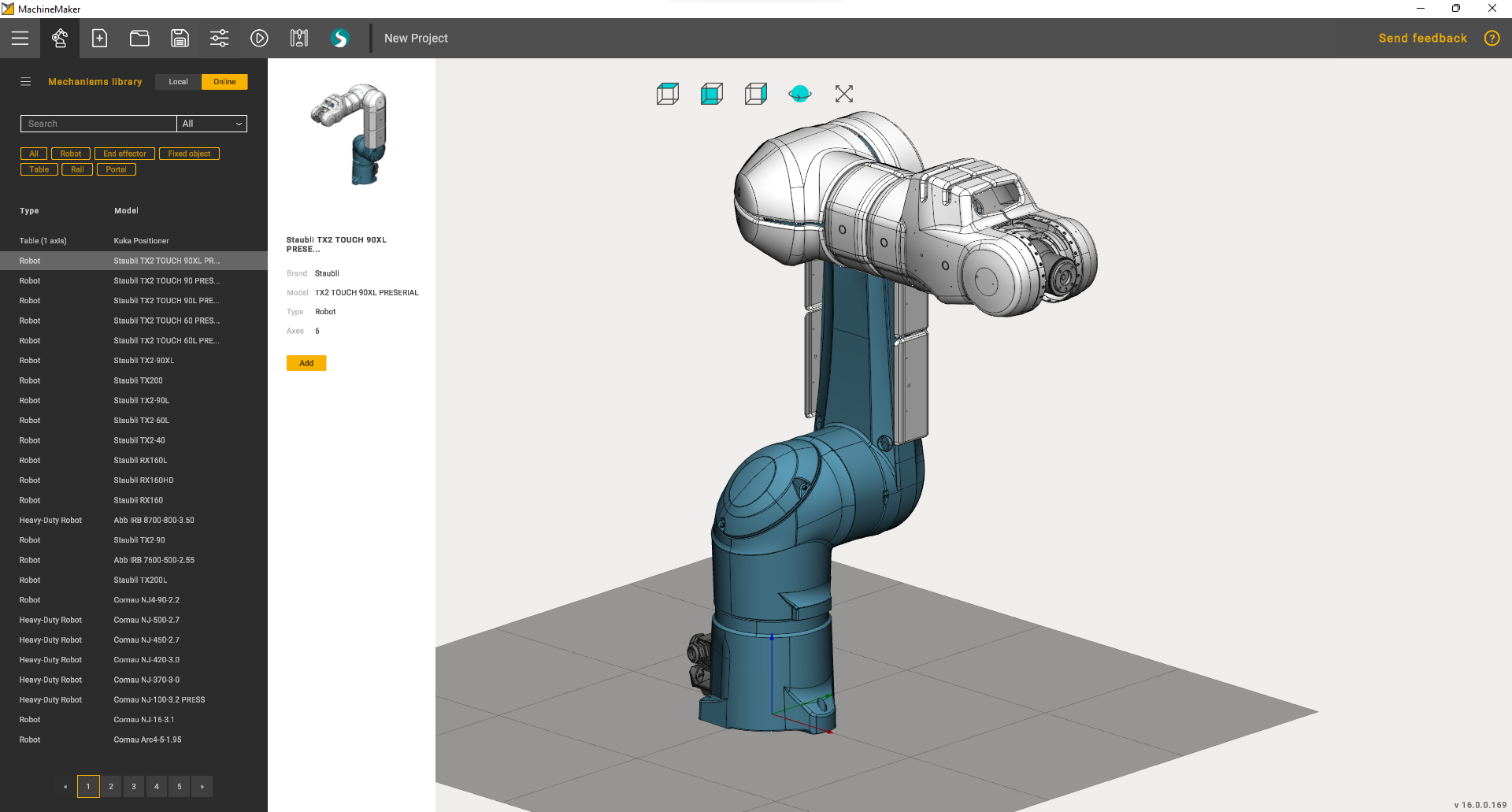 Explore 300 ready robots, positioners and other mechanisms from our new MachineMaker online robots library. It is also possible to save any object to your local mechanisms library and reuse them in other MachineMaker projects.
CNC Machines support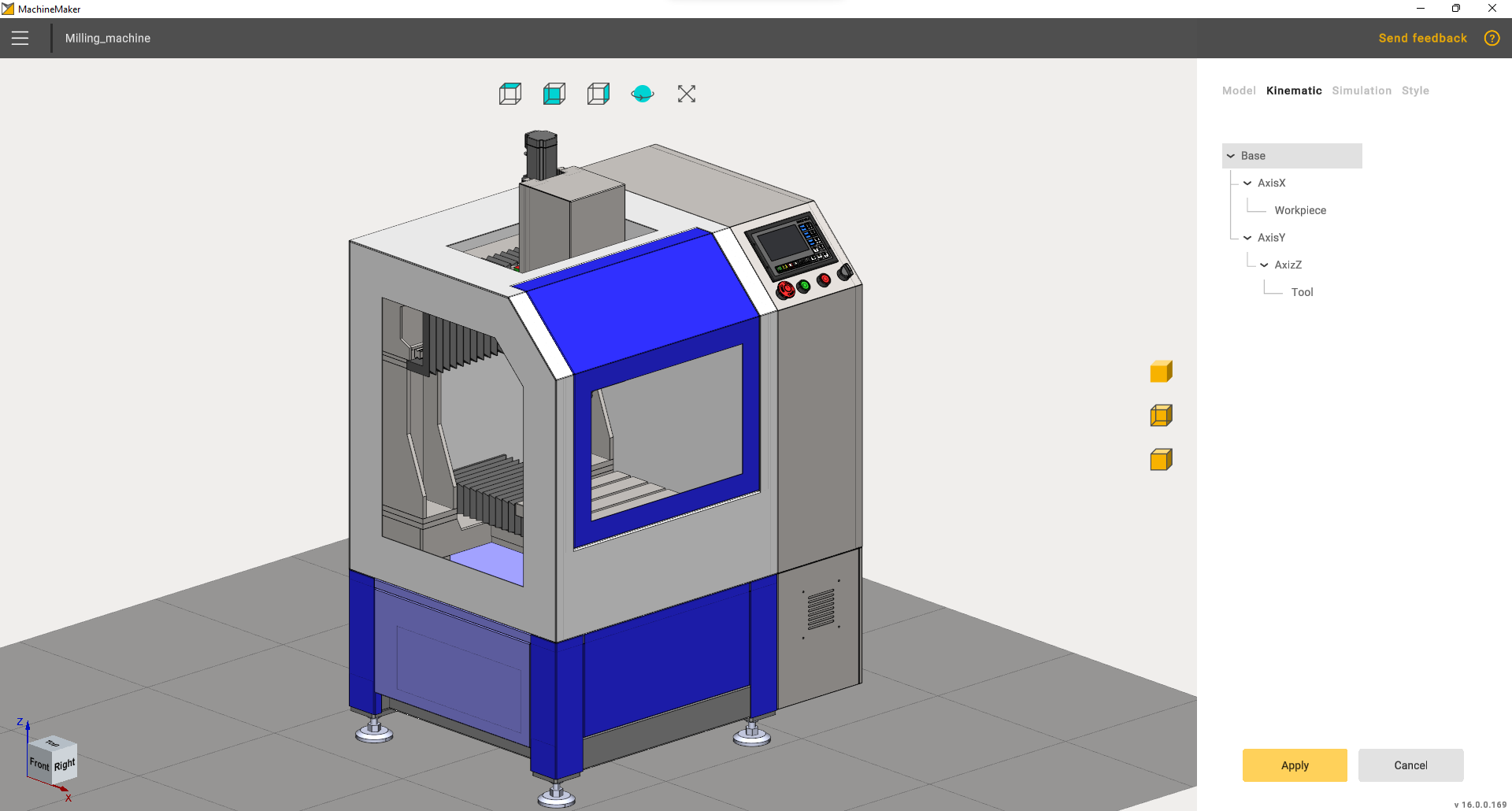 SprutCAM X 16 MachineMaker supports 3-axis milling machines.
3D models simplifier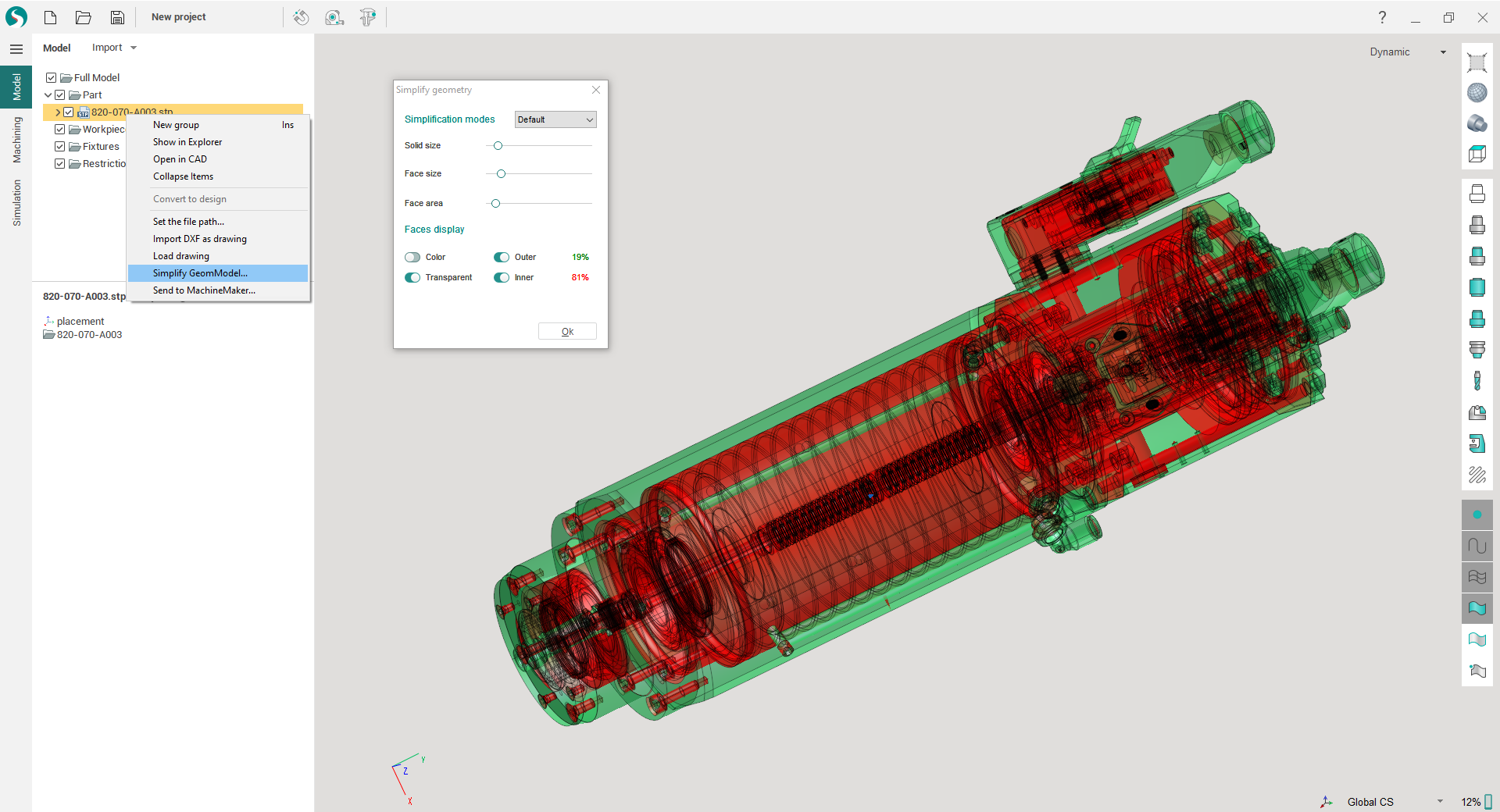 New interactive 3D model simplifier allows to remove inner faces and small objects from any 3D model.
New CAD import capabilities
---
New CADs Addons:
| | |
| --- | --- |
| Internal Importer | Version |
| | 18.0 - 19.0 |
Updated CADs Addons:
| | |
| --- | --- |
| CAD Software | Version |
| Alibre Desing | Up to V24 SP2 |
| CADBro | Up to 2022 |
| CAXA 3D | Up to 2021 |
| IronCAD | Up to 2022 SP0 |
| Kompas | Up to 20.0 |
| Rhinoceros | Up to 8 |
| SolidEdge | Up to 2022 |
| SolidWorks | Up to 2022 SP0 |
| SpaceClaim | Up to 2021 R2 |
| ZW3D | Up to 2022 |
New Machining Tools Import API
---
Using machining tools import API now you can write your own programs to import machining tools into the SprutCAM X from external TDM/PDM/PLM systems. It allows to create new turning, milling, and other custom tools by specifying your own geometric dimensions and properties and then save them to a library file.